FieldGuidetoQuilts.com

Stacked Stripes

Click on a small icon to go to the block you want to see.


Flyfoot blocks: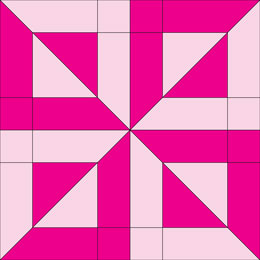 Betty's Delight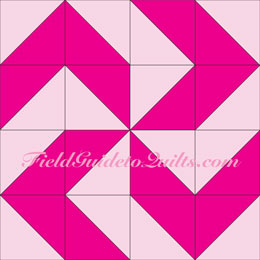 Flyfoot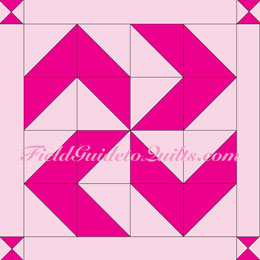 Indian Emblem
---
---
---
Five Stripes
















Five Stripes (alternating blocks turned 90°
)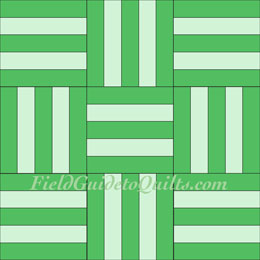 Five Stripes
Ladies Art Co. #39
1897
















Five Stripes
Modern Design (scrap)
The Ladies Art Company's 1897 catalog included this block as #139.

Barbara Brackman cites Old Chelsea Station (aka Needlecraft Services) for a scrap version under the name Modern Design.

One of the mockups shows all the blocks turned the same way. Somebody should look up the name of that weave someday.

The other has half the blocks turned 90 degrees from their neighboring blocks.

The block is laid out on a 15x15 grid, if you're counting.


---
London Stairs

London Stairs
Kansas City Star, 1934
















London Stairs 4-patch
Virginia Worm Fence/Endless Stairs/Endless Stair/Winding Stairway
In real life, London Stairs is usually diagrammed as a four-patch — that is, on a 4x4 grid, as we've shown it at right.


Originally, it was a nine-patch, on a 9x9 grid. That's how the Kansas City Star published in 1934 and again in 1942.

Problem is, the nine-patches do not produce a zigzig. Only Sir Edmund Hillary and his co-adventurers could climb stairs like these. We think it should be called the Hillary Steps, after that scary chunk of Mt. Everest above the Khumbu Ice Fall.

Virginia Worm Fence is drawn exactly like our Hillary Steps. It was #178 in Clara Stone's 1906 booklet Practical Needlework. Endless Stairs is from the Chicago Tribune's Nancy Cabot (March 1934). Maybe it's drawn on a 4x4 grid. We haven't seen it.

London Stairs rectangles are twice as long as they are wide. The rectangles in Rail Fence, below, are more narrow.


---
Rail Fence
Rail Fence as a nine-patch
Rail Fence
from the Web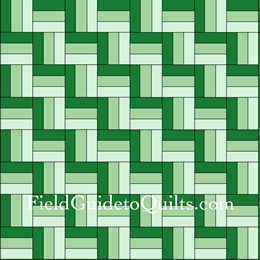 Rail Fence as a four-patch
Rail Fence Quilt


We don't know where this pretty arrangement of bars was first published, but it is well represented on the web.

The block is really a whole-quilt pattern made from three-stripe miniblocks. Most of the time, the block design is identical to Interlocked Squares and its sisters, below.

Rail Fence, though, isn't limited to three stripes; four or five bars work too.

The colors just have to be arranged to make a zigzag line.

---
Interlocked Squares
Interlocked Squares

Interlocked Squares

KCS, 1932
Four-Part Strip Block/Three by Three/Fence Posts
The Kansas City Star designer Edna Marie Dunn called this block "a puzzle for experienced quilters" in 1932. In fact, it's a simple block. The Star republished it as Four-Part Strip Block in 1948.

Another block called Roman Square (not pictured) is Interlocked Squares made entirely from prints. It dates back to 1948 (The Country Gentleman). Its alternative names are Three by Three and Fence Posts.

The "Make It!" icon above links to instructions that can be used for several of the blocks on this page — but be careful: don't sandwich a light fabric between two dark fabrics or you'll end up with a quilt full of swastikas.
---
Spirit of St. Louis

















Spirit of St. Louis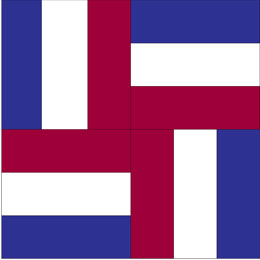 Spirit of St. Louis
Farm Journal
1934
Tricolor Block

The Spirit of St. Louis block was named for the airplane in which Charles Lindbergh crossed the Atlantic in 1927. It appeared in a 1934 Farm Journal.

The block is on a 6x6 grid, so it's not a Nazi swastika, but it's as close as we're going to get on this site.

In a whole quilt, the awkward symbol disappears. Not all such blocks are so accommodating. The Ladies Art Company's #455, called Swastika Patch, is of the five-patch variety. If you've got a quilt top or a stack of blocks with a similar design, you can change the design. Click here for our ideas:



In other color combinations, as long as the center piece in the 3-bar stack is the lightest, the block is called Tricolor Block (Chicago Tribune, 1936). Nancy Cabot designed both.


---
Roman Stripe Zig Zag
Zig Zag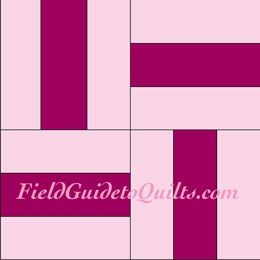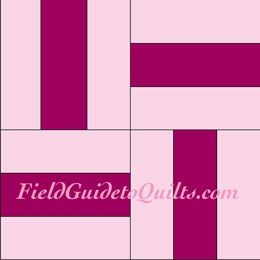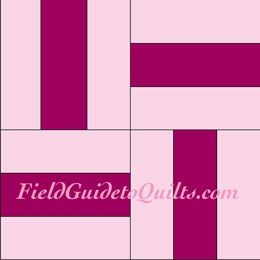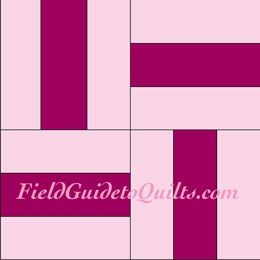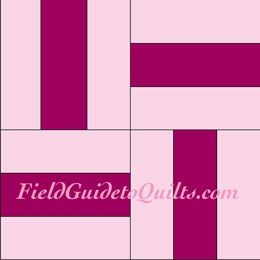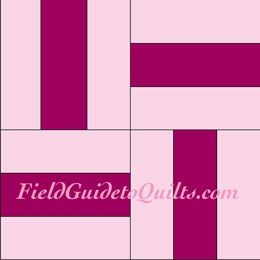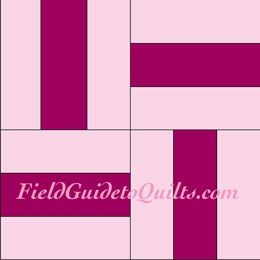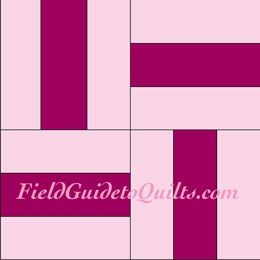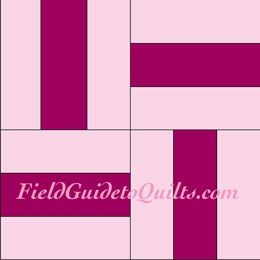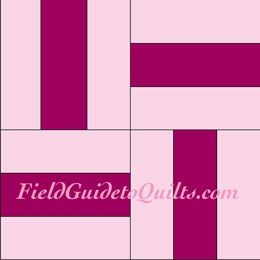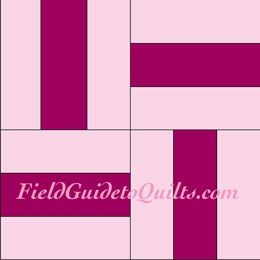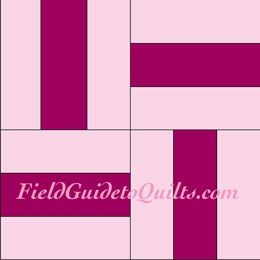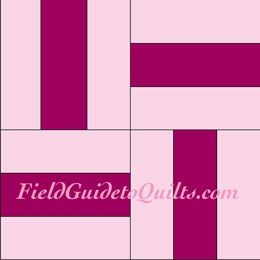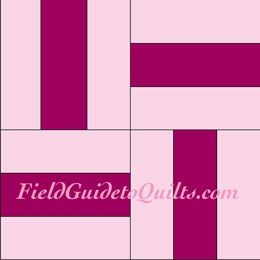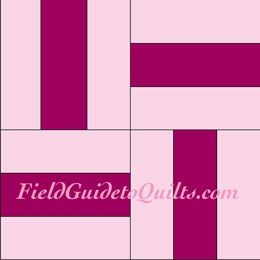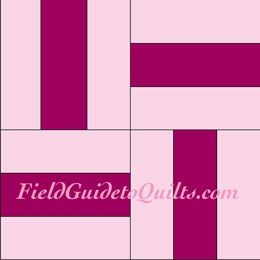 Roman Stripe Zig Zag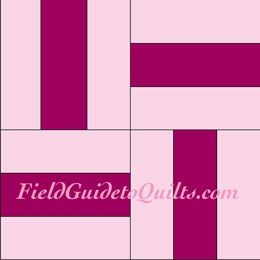 Roman Stripe Zig Zag
Gutcheon, 1973
This block is from 1973 (Gutcheon, A Perfect Patchwork Primer).


Zig Zag
Shelburne Museum, per Brackman

Brackman cites the Shelburne Museum's quilt catalog for Zig Zag, the same block placed on point (that is, turned 45 degrees). You definitely don't want to use that layout for Spirit of St. Louis.

---
Beggar's Blocks
















Beggar's Blocks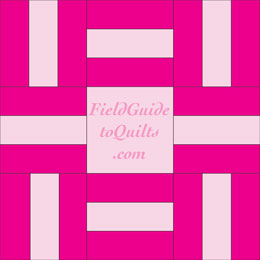 Beggar's Blocks
Finley, 1929
Cats & Mice
Finley's 1929 Old Patchwork Quilts included this curious nine-patch block. The name Cats & Mice, she says, prevailed among Pennsylvania Dutch quilters.

For two other, very different Beggar's Blocks, click here:

or here:

---
The House Jack Built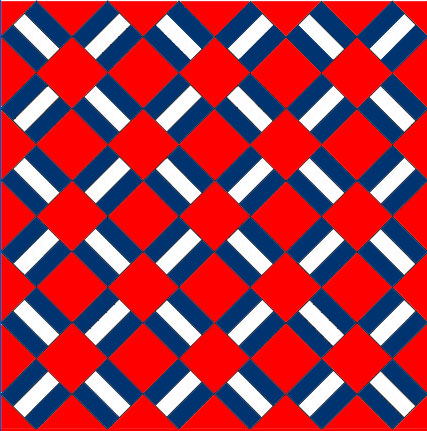 The House Jack Built
The House Jack Built
LAC#265,
1897
Triple Stripe
The House Jack Built, part of the LAC's 1897 catalog, was republished as Triple Stripe in a Grandma Dexter publication in 1932.
---
Twin Sisters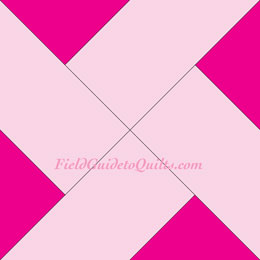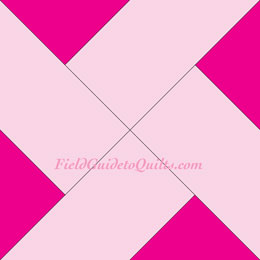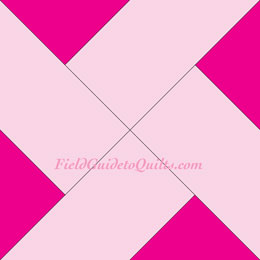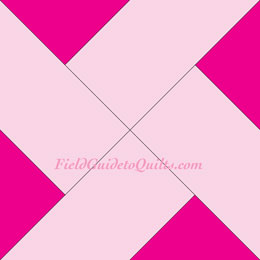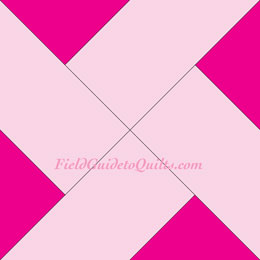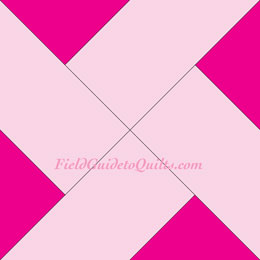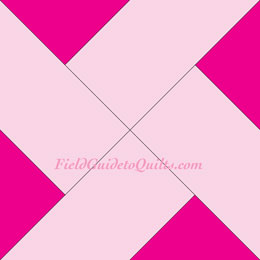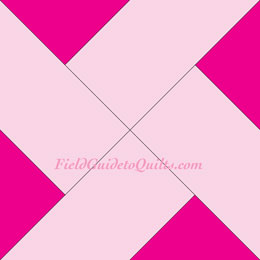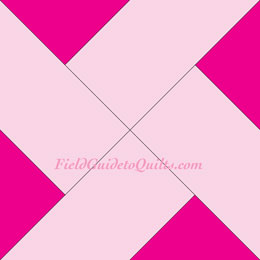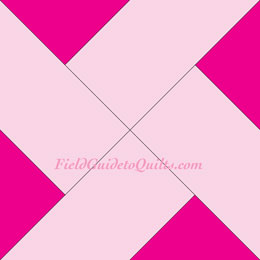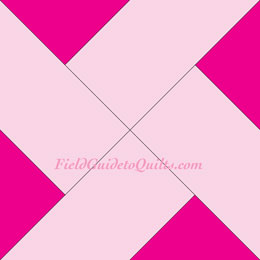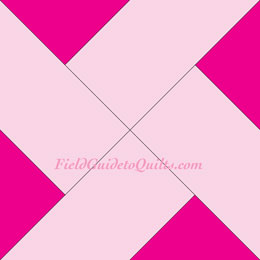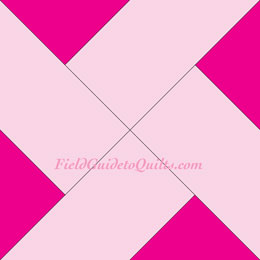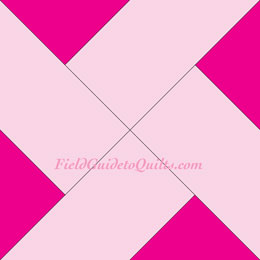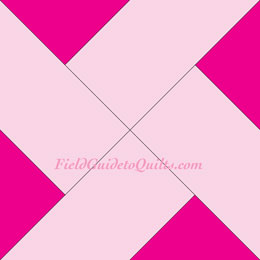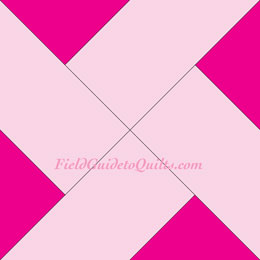 Twin Sisters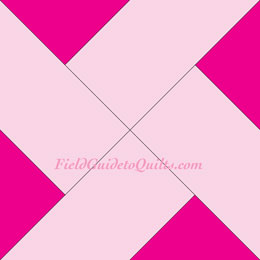 Twin Sisters
LAC #213
1897

Whirlwind, Windmill, Twin Sisters Quilt, Water Wheel, Pinwheel



It doesn't get much simpler than this 4x4 block from the Ladies Art Company's 1897 catalog. That may be why all its alternative names, except "Twin Sisters Quilt" are such basic names used for many other blocks.

---
No block that resembles a Nazi symbol belongs in polite company today. We're more forgiving of flyfoot blocks; they just aren't the same thing.
Fly Foot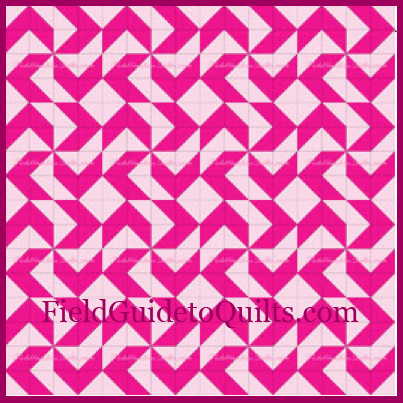 The House Jack Built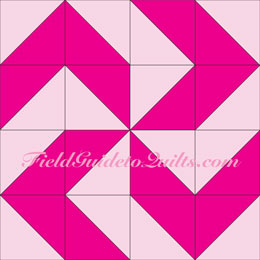 Fly Foot
Foland/Finley, 1929
Fly Foot Devil's Puzzle/Virginia Reel/Catch Me if You Can/Devil's Dark House/Devil's Dark Horse/Zig Zag/Swastika/The Pure Symbol of Right Doctrine/Heart's Seal/Chinese 10,000 Perfections/Favorite of the Peruvians/The Battle Ax of Thor/ Mound Builders/Catch-Me-if-You-Can/Wind Power of the Osages

Ruth Finley, in her 1929 book Old Patchwork Quilts, wrote that this spinning-chevron design is also known as a fylfot or flyfot fret, which in Colonial and Federal times was a pattern used for architectural trim.
Nowadays you'll find flyfoot synonymous with swastika and fret (or Greek fret) synonymous with Greek key, but in her day, Finley saw both terms as broad enough to cover the Fly Foot design.

For the quilt block called Greek Key, click here:



Evelyn Foland also presented this block in 1929 in the Kansas City Star. In 1935, quilt researcher Carrie Hall gave this block the identical set of names that she used for a true swastika block, which, on this site, is represented by the Spirit of St. Louis, above. Hall's names for Flyfoot start after "Zig Zag" above.

We don't know where Hall got the the names. (Honestly, who would call a quilt block "The Battle Ax of Thor?") Our hunch is that Hall, or her coauthor Rose Kretsinger, looked up "Flyfoot" in a reference book, saw "swastika," and wrote down every name she found.

Catch Me if You Can, according to Jinny Beyer, is from a publication called Pieced Quilt, ca. 1900. Beyer also lists the name Devil's Dark House, and Barbara Brackman, in her Encyclopedia of Pieced Quilt Patterns, records Devil's Dark Horse. Neither author gave the origin of those names.
---
Indian Emblem
Indian Emblem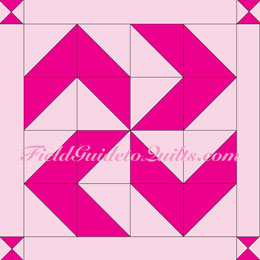 Indian Emblem
KCS, 1930
Indian Emblem Winding Blades

The Indian Emblem quilt was a 1930 block by Eveline Foland of the Kansas City Star.

Foland had also called the block Swastika ("an emblem of good luck") in 1929. The only difference is that for Indian Emblem, she recommended the borders that you see around the block at left.

Foland wrote that the symbol in Indian Emblem was Indian, which it is, but she also apparently thought it was Native American, which it is not.

"If you are charmed by a piece of Indian pottery or a blanket of Indian design, you will alike be charmed by this quilt," Foland wrote, calling it a variation of the swastika.

We are charmed, though, by this tiny reminder that once, for U.S. citizens, the whole world was America.

Carrie Hall repeated the same notion in her 1935 book, but added that the swastika and this variation "go back farther than the American Indian for their origin. These were favorite motifs of the early Egyptians."

The likelihood is that she picked up that information from Marie Webster's Quilts: Their Story and How to Make Them (1915), said to be the first book on quilting ever written. Just goes to show that quilters are givers and borrowers both.
---
Betty's Delight
Betty's Delight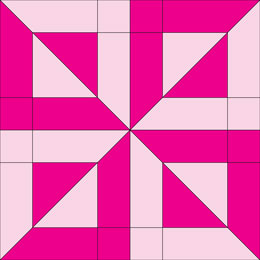 Betty's Delight KCS, 1949


The Kansas City Star published Betty's Delight in 1949.

Betty Crocker came along in 1921, but Betty Davis, Betty Grable, and Betty Boop became famous only in the 1930s. Perhaps a member of one of the nation's Betty Clubs would know."Betty" was the second most popular girl's name of the 1930s (after Mary). In the 1910s, it ranked 37th.

By 1949, however, the Betty brigade was shrinking. So how did the KCS come up with this name? They don't say.


---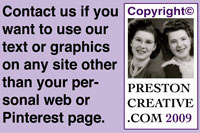 ---