FieldGuidetoQuilts.com

8-point Pinwheel Stars
***
If a block owes its name to a particular arrangement of colors, we include it as a unique block whether or not the pattern is unique. That's why you'll find all four variations of Circling Swallows, as well as Polk Ohio and Pin Wheel, listed separately on this page. It's also why Card Trick's two variations, like fraternal twins, are listed under the same name below.
Enigma
Enigma
Enigma

North Star, Star Puzzle

The Ladies Art Company's 1897 catalog had 400 blocks, or so we're told. That makes Enigma, #400, the last LAC block to see print in the 19th century.

In 1937, Chicago Tribune columnist Nancy Cabot published a similar block with a slightly smaller center star and called it Star Puzzle. Columnist Nancy Page called it North Star in 1939.

Enigma is drafted on a star grid with four lines running through the center of the block. The star points are located where those lines cross two circles. One circle is the full width of the block and the other is half the width of the block. You don't see the circles on the finished block.

Like so many other LAC blocks, the illustration was in two colors, dark and light, and was very likely meant to be made with dark- and light-colored scraps. We've branched out to three colors in our mockups.

If you've stumbled across this block when you were looking for Nancy Cabot's Enigma Square, click here:
Here's how you can draft your own Enigma block.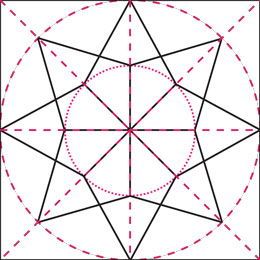 ---
Flying Bat

Flying Bat
LAC #44
1897

























Flying Bat

The difference between Flying Bat (LAC #44) and Polaris Star, below, is that the contrasting ribbon of color that gives the block its character is divided into three diamonds in Flying Bat.

We've swapped the light and dark colors from the LAC's illustration so you can see the diamonds. Why diamonds if they're all the same color? They're supposed to be scraps of similar colors, probably.




Polaris Star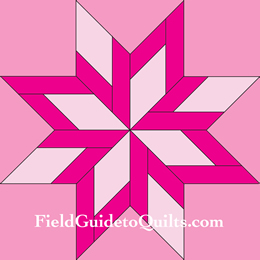 Polaris Star
Hall
1935

























Polaris Star

Flying Bat



If you use only one fabric for the diamonds in Flying Bats, Carrie Hall's variation, Polaris Star, is far simpler to make. She stitched up a Polaris Star block for a collection that is now in the Spencer Museum at the University of Kansas in Lawrence, Kansas. She made it in three colors, like our graphic.

North star, pole star, and Polaris are names for the real-life star that is closest to the invisible axis on which Earth spins, and thus, stays in the same place in the sky from sundown to dawn — an essential navigation point for millenia. As Hall traveled country roads to do block research in the 1920s, she would have seen the full majesty of the night stars in an unlit rural landscape.
---
Circling Swallows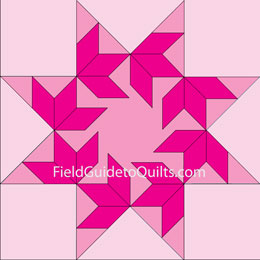 Circling Swallows
Finley
1929
Circling Swallows

Falling Star/Flying Star/Flying Swallows/Rolling Star



Circling Swallows has been around since about 1800, according to quilt historian Ruth Finley (Old Patchwork Quilts, 1929). She said it was popular in New England and Pennsylvania.

Nowadays the block usually goes by Circling Swallows. Finley called it Falling Star; Circling Swallows and Flying Star were alternate names; almost 60 years later, Yvonne Khin (Collector's Dictionary, 1988) added the name Rolling Star. 

Any of these blocks can be made with the instructions you'll see when you click the "Make it!" icon. And if you don't like that how-to, there are plenty more on the web. 


Flying Swallow
Flying Swallow
LAC
1928
Flying Swallow

Wreath



The Ladies Art Company called this two-color star Flying Swallow in 1928 (#503). The star and background are one color and the triple diamonds are in the second color.

In 1933, Laura Wheeler called the same block Wreath.





Whirling Star
Whirling Star
Kansas City Star
1937
Whirling Star

The two-color Kansas City Star variation (1937) was called Whirling Star. The background and diamonds are in one color, and the star is in the second color.



Falling Star
Falling Star
Kansas City Star
1937
Falling Star

Flying Swallows



In their 1935 book, quilt researchers Carrie Hall and Rose Kretsinger called a four-color variation of Circling Swallows by two of the same names Finley included as alternatives. The block is pictured at left. Hall stitched up a block of this design and included it in a comprehensive collection of quilt blocks that is now in the Spencer Museum of Art at the University of Kansas in Lawrenceville, Kansas.

---
Godey's Design
Godey's Design
Godey's Ladies Book
1858


Godey's Ladies Book, is too familiar to quilters to have a well-known name. It must have been something of a novelty in 1858, however, since Godey's rarely included quilt blocks: Its readers — so its editress seemed to think — were too dignified to be interested in thrift-inspired activities such as quilting. The block can be drawn on a 6x6 grid.
---
Fish Tails
Fish Tails
Stone (as Double Star)
1906


Fish Tails (Double Star)

Double Star



The Fish Tails block was originally published as Double Star in Practical Needlework by Clara Stone (1906). The far more memorable name that we're using is from an identical Nancy Page block published in 1933.
---
Star Flower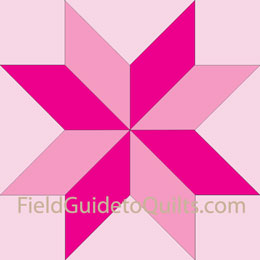 Star Flower
Q Book 112
Star Flower

This basic design seems to have only one name, and nobody knows what it is except a few experts. Jinny Beyer is one of them. She cites Q Book 112: One Piece Quilts for the name Star Flower in her Quilter's Album of Patchwork Patterns (2009).

---
Pin Wheel

Pin Wheel

Pin Wheel Orange Judd Farmer
1899

Star of the Milky Way/Twinkle Star/LeMoyne Star & Windmill



Both Pin Wheel and Polk Ohio are based on star grids, but Pin Wheel is older. Its debut was in the Orange Judd Farmer in 1899, according to Barbara Brackman.

Orange Judd was the long-time editor of American Agriculturist, which he bought from its founders in 1856. Later, his publishing company bought an existing magazine for farmers and named itOrange Judd Farmer. Orange Judd & Co. also published Hearth and Home for three years.

All three magazines published quilt blocks, which, in agricultural journals, were a nod to the farmer's wife. If Judd had known that he'd be remembered more than a hundred years after his death as a patron of the quilting arts, he'd probably have been shocked.



Polk Ohio


























Polk Ohio
Polk Ohio Nancy Page
1939

(Birmingham News), according to Jinny Beyer's Quilter's Album. We don't know whether the name refers to President Polk, who was born in North Carolina, or the town of Polk, Ohio, which is west of Akron, or something else.

Nor do we know how the colors in Page's block were arranged. We'd love to hear from anyone who knows.

We've shown a two-color version.
---
Unfolding Star

Unfolding Star
Polk Ohio
Nancy Page
1939

























Unfolding Star

Nancy Cabot's block from a 1936 Chicago Tribune was far more complex than the block it inspired half a century later: Waltzing Matilda by Judith Martin (1988).

The frou-frou around the octagon may seem beside the point, but it creates an interesting pattern on a quilt top. <


---
Waltzing Matilda
Polk Ohio
Nancy Page
1939

























Waltzing Matilda

This elegant star is from Judy Martin's Ultimate Book of Quilt Block Patterns(1988). It was reportedly based on the 1936 Unfolding Star block, above.
---
Card Trick

Card Trick
Card Trick
Polk Ohio
Nancy Page
1939
Card Trick

The older variation of Card Trick looks utterly different from the modern, popular variation, but they're both made from the same pattern included in Brackman's Encyclopedia. We think that's an amazing trick all by itself.
---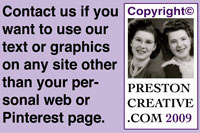 ---