FieldGuidetoQuilts.com
Petal blocks

The shape we call Petal is an oval with pointed ends -- in jewelry, the shape is called a marquise. Some beautiful and very popular blocks fall in this category, including more than a handful of blocks that, as whole quilts, form the pattern called Rob Peter to Pay Paul.


---

See also:
Pickle Dish (LAC)
Pickle Dish (Cabot)
Pickle Dish (KCS)
---
Orange Peel
Orange Peel
Orange Peel
Ladies Art Co., #107, 1897

Lafayette Orange Peel/Melon Patch/An Orange Peel Quilt/Save a Piece (Scraps)

A lovely story goes with this block. Lafayette, a French nobleman whose full name was about 40 miles long, was a close friend of George Washington and a major help to the Americans during the Revolutionary War.

Of course, he was a hero in America. At a party, he charmed everyone when he removed an orange's peel in a novel way, by cutting it into four pointed ovals. A young lady asked for the peel, took it home, and the rest is history.

The anecdote was a curatorial note on a quilt at the 2012 International Quilt Festival in Houston, Texas.

The block was first published as Orange Peel in 1897 as Ladies Art Company's block #107. It was resurrected twice with near-identical names in the Kansas City Star (1929, 1956), and Nancy Cabot of the Chicago Tribune called it Melon Patch in 1933. The same year, Holland's Magazine of Dallas, Texas called it Save a Piece (Scraps).


Lafayette Orange Peel
Joseph's Coat
Cincinnati Enquirer, 1933

Joseph's Coat



Orange Peel is often called Lafayette Orange Peel, but there is another block of that name, published in 1933 in the Cincinnati Enquirer. The difference? The Enquirer's version lacked the quarter-block seam lines. While we prefer the block name about the aristocrat with a-peel (get it?), making it with the seams is much easier.

Carrie Hall, that doyenne of quilt-block design, stitched up an example without quarter-block seams in the 1930s. It was published in her book The Romance of the Patchwork Quilt (1935). Hall's sample block is now part of the collection of the Spencer Museum at the University of Kansas' Lawrence campus.

Still another block like the Enquirer's was credited to Alice Brooks in 1934 under the name Joseph's Coat. For this information we thank Jinny Beyer and her Quilter's Album of Patchwork Patterns.





---
Rob Peter to Pay Paul
Rob Peter to Pay Paul
Rob Peter to Pay Paul
KCS 1928

Pin Cushion/Pincushion and Cucumbers/Pincushion Design/Dolly Madison's Workbox/Mary's Choice/Lafayette Orange Peel/Lemon Peels/Love Ring/Rob Peter and Pay Paul/Rob Peter to Pay Paul/Robbing Peter to Pay Paul/Sugar Bowl/Turn About Quilt/Turnabout/Dolly Madison's Workbasket

The key characteristic of Rob Peter to Pay Paul is that the petals are split in half, with each block alternating in color. It's really a variation of Pin Cushion (below), in which colors do not alternate.

Rob Peter to Pay Paul is the name usually used for this block. It is only one of about a dozen blocks that goes by some variation of that name.

First published as Pin Cushion in the Ladies Art Company's 1897 catalog (#133), the block was rediscovered by the Kansas City Star's quilt columnist, Ruby McKim, in 1928 and named Rob Peter and Pay Paul.

---
Pin Cushion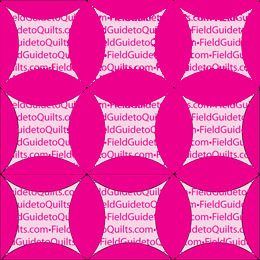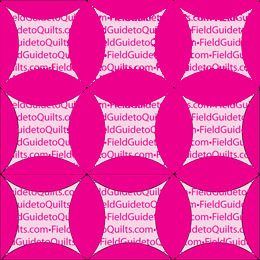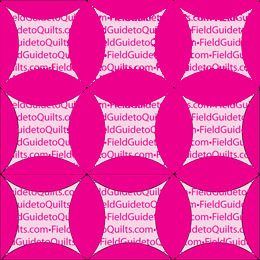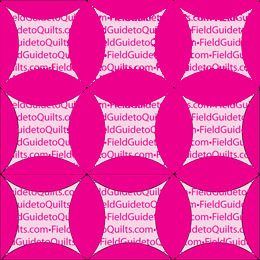 Pin Cushion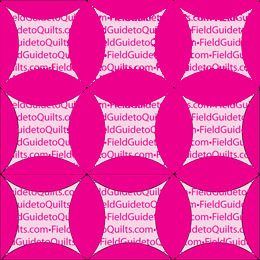 Pin Cushion

Cabot, 1934

Another variation of Rob Peter to Pay Paul, also called Pin Cushion, has one-piece petals. It is from Nancy Cabot and appeared in a 1934 Chicago Tribune. Her block, like the LAC's, included nine individual mini-blocks.

The difference between this block and Orange Peel is that one block is set on point compared to the other. You could say that Orange Peel is on point and Pin Cushion is not, except that in terms of construction, the edges are almost always foursquare with the grain of the fabric.

Why? When you make a block, it's easier to keep the pieces from stretching out of shape if the seam is going the same direction as the grain. Similarly, when you hold up a quilt by the top or hang it, it's less likely to stretch out if the grain of the fabric is perpendicular to the floor.
---
Tea Leaf
Tea Leaf
Tea Leaf
LAC,#69
1897

Tealeaf/Lover's Knot/Circle upon Circle/True Lover's Knot/Linked Petals/Bay Leaf/Tea Leaves

Unlike Robbing Peter, above, Tea Leaf's pointed ovals are a single piece. We suspect that it was intended to be a continuous block looking much like a collection of Pin Cushions. However, the design as it was shown makes for an interesting design for a whole quilt.

Tea Leaf is Block #69 of the LAC catalog of 1897. The names Lover's Knot and Tealeaf came from a 1932 Grandmother Clark booklet (#19), Circle upon Circle from a 1934 Mrs. Danner's Quilts booklet, and True Lover's Knot and Linked Petals from newspaper designers (Cabot, 1933; Page, 1942). Researcher Carrie Hall called the block Bay Leaf and Tea Leaves in 1935.

---
Space for Many Names
Space for Many Names
KCS 1959
Space for Many Names

This block is a single unit of Rob Peter to Pay Paul with slightly wider points, published in the Kansas City Star in 1959. (We've traced the block from a photograph of the Star's pattern.) The name suggests that it be used in album quilts—quilts made by several people for a friend or honoree.

Our line drawing is posted; click on the violet "Make It!" icon at upper right.
---
Melon Patch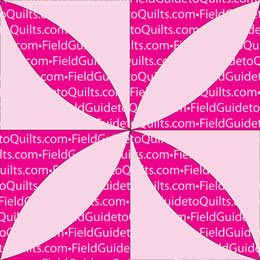 Melon Patch
Cabot, 1934
















Melon Patch

Orange Peel

Melon Patch was published in the Chicago Tribune in 1934 under Nancy Cabot's byline. Cabot gave the block the alternative name Orange Peel.

Every last Melon Patch pattern we've seen on the web has the same proportions as an Orange Peel. Even Hall/Kretsinger, whose Romance of the Patchwork Quilt in America was published in 1935, said that the Melon Patch was pretty much the same thing. In their photographs, however, the Melon Patch petals were considerably slimmer.

Our violet icon links to a diagram and, from there, to tutorials.
---
Alabama Beauty
















Alabama Beauty
Alabama Beauty
Cabot, 1933 Nancy Cabot's 1933 petal block, published in the Chicago Tribune. Click on the violet icon for a diagram.

---
Kansas Beauty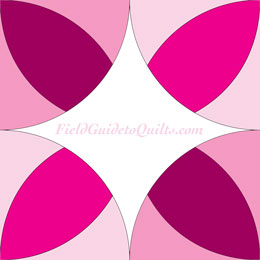 The Kansas Beauty
KCS, 1936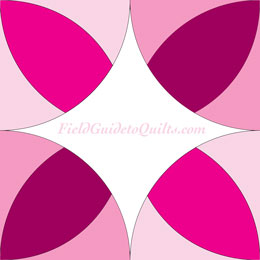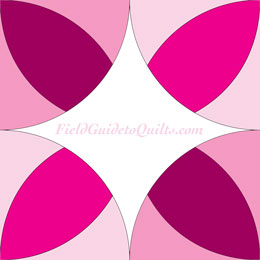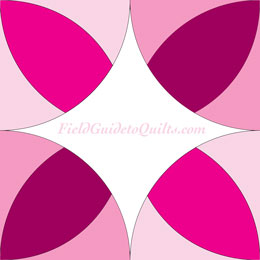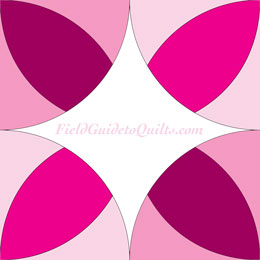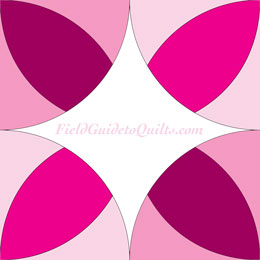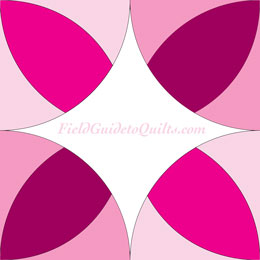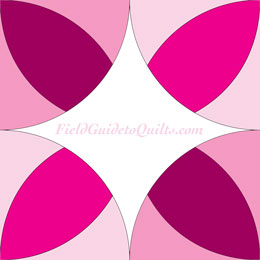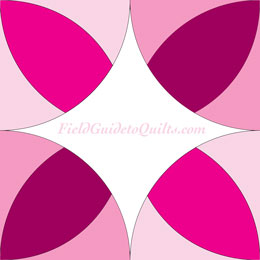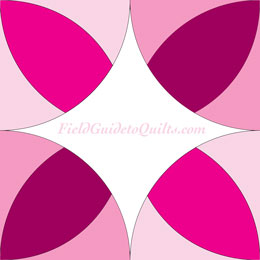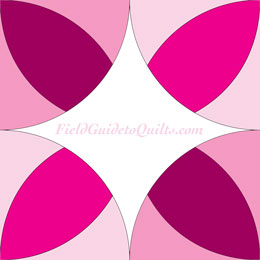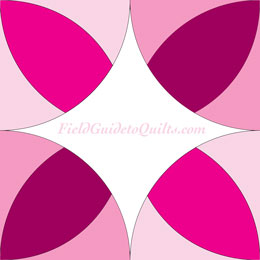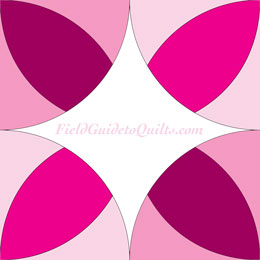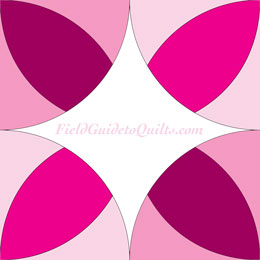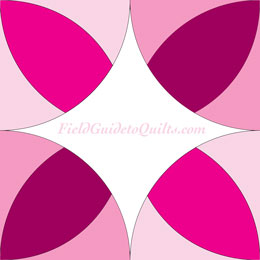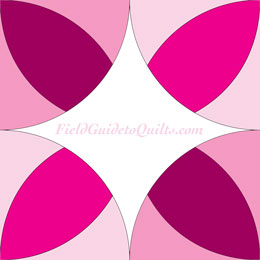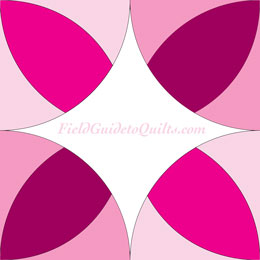 The Kansas Beauty

This colorful variation of theAlabama Beauty block was published in 1936 in the Kansas City Star, along with instructions specifying a white center and alternating light and dark colors arranged as they are in the example at left.


The Star's Kansas Beauty quilt had a scalloped edge (right) rather than the straight edge in our mockup.

Click on the MakeIt! icon for our diagram.





---
Rose Dream
Rose Dream
KCS, 1930
Rose Dream

The Broken Square/The Rose Dream/Hollows & Squares/Martha/Endless Chain/True Lover's Knot/Lover's Knot

Kansas journalists can't seem to remember this block: It was published in the Kansas City Star no fewer than 5 times. It was re-drafted each time.

The original design, published in 1930, was by Star designer Eveline Foland. It was called Rose Dream. The Star republished it in 1938 (with slightly more slender proportions) as The Broken Square, in 1947 as The Rose Dream, and in 1949 as Hollows & Squares.

As for the other names for Rose Dream, Barbara Brackman's Encyclopedia of Pieced Quilt Blocks tells us that Lover's Knot is from Capper's magazine (1930), Martha is from the Oklahoma Farmer Stockman (1932), Endless Chain is from Nancy Cabot (1933), and True Lover's Knot from a Mrs. Danner booklet (1934). Lover's Bowtie is credited to "Frank," meaning the booklet E-Z Patterns for Patchwork and Applique Quilts from the Robert Frank Needlework Supply Co. of Kalamazoo, Michigan.
---
The Rain Drop Quilt Block
The Rain Drop Quilt Block
The Rain Drop Quilt Block
KCS, 1960

This single quarter block of Rose Dream was published as The Rain Drop Quilt Block in the Star in 1960.

By turning some of the blocks you can make concentric squares, zigzags, and so forth too.



---
The Whale Block
The Whale Block
LAC, #490
1922
The Whale Block

We don't know why the Ladies Art Company named this block as it did, but we're guessing that the design originated in New England, the center of the whaling business in the United States.

Wherever the name came from, the block was published in the LAC's 1922 catalog as #490.
---
Job's Tears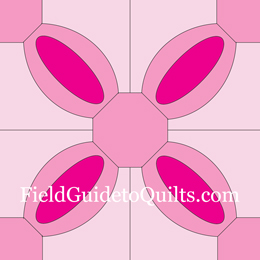 Job's Tears

Finley, 1929
Job's Tears

The Slave Chain/Texas Tears/The Rocky Road to Kansas/Kansas Troubles/Endless Chain

We have Ruth Finley's Old Patchwork Quilts (1929) to thank for the history of this curious block, which was named before 1800 for a bean plant called Job's Tears.

The block picked up the name The Slave Chain around 1820, when Missouri and Maine became states in what was known as the Missouri Compromise (the Compromise kept the number of free and slave states equal). By 1840 it picked up the name Texas Tears, followed by The Rocky Road to Kansas and Kansas Troubles. Around 1880, it was being called Endless Chain.

Not even with the aid of the inimitable Jinny Beyer's Quilter's Album were we able to figure out a way to draft this block. We wound up drawing it by eyeball from Finley's book.

We like to think that we're following in the footsteps of our pioneer sisters.

---
Friendship Dahlia
Friendship Dahlia
Cabot, 1937
Friendship Dahlia

Our graphic at left is three blocks in one: You'll see some faint lettering in the lower right and left corners, both showing the location of stems in each of the three variations of the block.

Nancy Cabot presented the block without a stem in 1937; Carrie Hall published one with a straight stem in 1935; and one with a curved stem appeared in a booklet called Prize Winning Designs in 1931. This information we owe to Jinny Beyers' Quilters' Album of Patchwork Patterns (2009). We don't know how the colors were arranged in any of the blocks.

The block is drawn on a 7x7 grid. If you're interested in making it, you'll find a diagram with all three variations when you click on the "Make It!" icon above.
---
Star Sapphire
Star Sapphire
KCS, 1936



Star Sapphire

The Kansas City Star thought that Star Sapphire was just the thing for birthstone colors, but we've shown it in the sapphire's traditional blue, if only because we're tired of using pink. We've included the dark outer circle just as the Star published it in March 1936.



The block is laid out on a four-by-four-square grid, but to get those rounded, tesselated-looking pieces in the center diamond, you will need to find a segment of a circle.

We started with a six inch square and found that the arc in the Star's diagram was a 6" segment of a circle with a diameter of just about 7-3/4" inches. That is, to draw a 12-inch block, you'll have to draw a 15-1/2" circle and use the part of the circle between the points where it touches a straight 12-inch line.

There are mathematical terms for the arc involving a radius and degrees, but we bet you don't remember them either.


---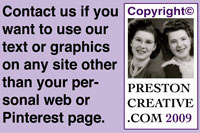 ---