FieldGuidetoQuilts.com
Bear Paw

**&
Bear paws and Irish Puzzle blocks have the look of a four-leafed clover, with two to five sawtooth "claws" per cloverleaf and a cross shape separating the quarter blocks. In practice, Bear Paws' quarter blocks may be used alone, but they're called Bear Paws regardless.

Bear Paw blocks are close cousins to the pinwheel blocks called Irish Puzzle and Kansas Troubles. One is even named "Bear's Paw." Get to know them by clicking here:


Click on the illustration at right for a shortcut to our box on how Bear Paw got its name.




How the Bear Paw got its name
A tale of life and love on the American frontier
---

Bear's Foot
Bear Paw
Premium Star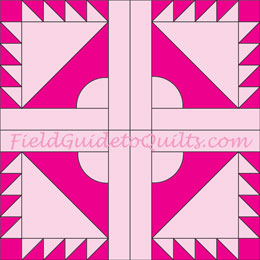 The World's Fair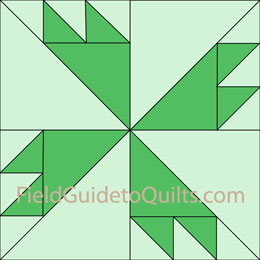 Rosebud/ Humming Bird

Coming soon:
Sunshine
Delectable Mountains Hall

Delectable Mountains Cabot

King Solomon's Temple

See also:

Pine Tree Design

Maple Leaf
---
Bear's Foot
Bear's Foot
Bear's Foot
Ladies Art Co., #357
1897

Bear's Track/ Bear's Paw/ Big Bear Paw/ The Big Bear's Paw/ Pieced Bear Paw/Cat's Paw/Duck's Foot/Duck's Foot in the Mud/ Illinois Turkey Track/ Tea Leaf Design/Batsche/ The Best Friend/ Small Hand/ Hand of Friendship


The regionalisms that made this block Turkey Track in Illinois made it Duck's Foot in the Mud in Long Island and Big Bear Paw elsewhere.

The more names a design has, the older it usually is. Without a dated antique quilt, we can only go by the date of publication: 1897, Bear's Foot is the Ladies Art Company''s name.

The example we show is on a 7x7 grid, like the LAC's. Other blocks with this name differ in the location and number of seams and patches, in the number of colors, and so forth. Quilters today recognize them all as Bear Paws. We've shown a few variations on this page.
---
Bear's Paw
















Bear's Paw variation
Bear's Paw
Cabot
1933
Bear's Paw

In this three-color variation, the center square is the same color as the background. It's a great design for a whole quilt. It would also look good with a lattice made from contrasting colors in the center (far right). The block was published in the Chicago Tribune in 1933.

Scroll further for the Ladies Art Company block named Bear's Paw (#162). For the Ladies Art Company block named Hen & Chickens (#385), click here:
---
Bear's Paw

Bear's Paw (Grandmother Clark)
Bear Paw Grandmother Clark
1932

American Rose Bud/The Best Friend/Dove in the Window/Duck's Foot in the Mud/Rosebud/Tea Rose



From a Grandmother Clark booklet published in 1932 comes this variation on a bear paw cloverleaf: each paw is a 2x2 (four-patch) checkerboard.

We're not sure of the colors used in the original block. Our information for this block is from Jinny Beyer's Quilter's Album of Patchwork Patterns.
---
Premium Star

















Premium Star (Cabot)

Premium Star Cabot
1935

Path of Thorns



Nancy Cabot designed this block for the Chicago Tribune, which published it in 1935, almost 40 years after it was published in the Ladies Art Company catalog of 1897.

Only three months after Cabot's block appeared, it resurfaced in Nancy Page's column in the Birmingham News as Path of Thorns. The name Path of Thorns (as opposed to Thorny Path) was probably meant to evoke a Christian image—the crown of thorns, the path of the cross.

Our information on the block name comes from Jinny Beyer's Quilter's Album of Patchwork Patterns.
---
Premium Star
Premium Star (LAC)
Premium Star LAC #26
1897

The LAC's block #26, published in 1897, is a more-complex forerunner of Nancy Cabot's Premium Star. Unlike Cabot's 8x8-grid block, which has just four sawtooth points per quarter block, the LAC's Premium Star is based on a 12x12 grid and has six points per quarter block.
---
The World's Fair

The World's Fair (LAC)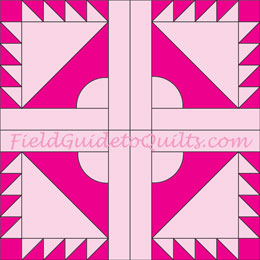 The World's Fair LAC #134
1897

The Ladies Art Company published The World's Fair in 1897. Catalog number #134 combines two each of nearly identical blocks — the quarter-block pairs are mirror images of each other.

The quarter-circles, meanwhile, make things interesting. More interesting still is The World's Fair's eight points per quarter block. Not many sawtooth blocks are that complex. One exception is a 1970 variation of the block called Kansas Troubles, which we've included here:


The quarter-block pairs are different only in whether the center rectangles butt up against the edge of the block or the edge of the other rectangle in the same block.

Why not make all the quarter-blocks the same? If you know, tell us.




---
Rosebud/Humming Bird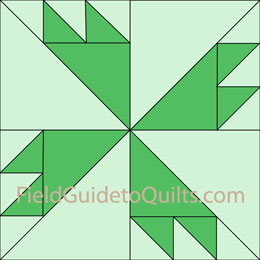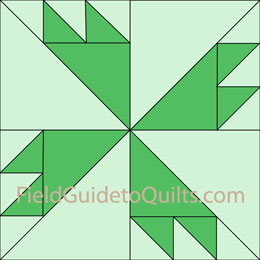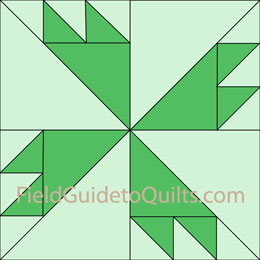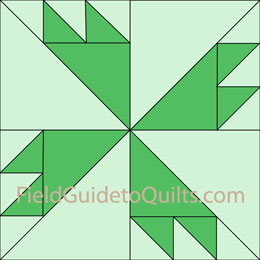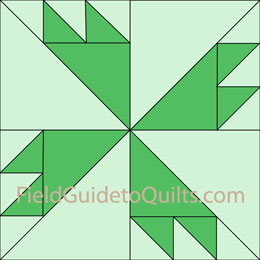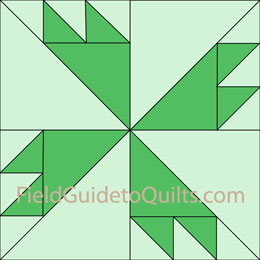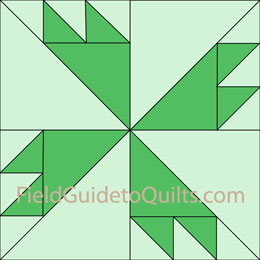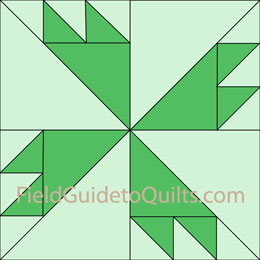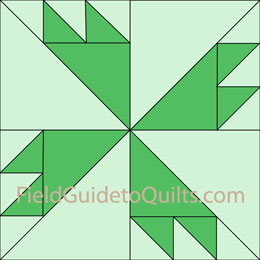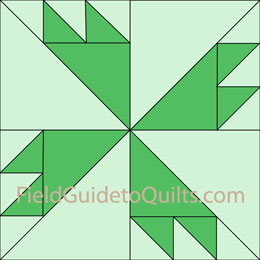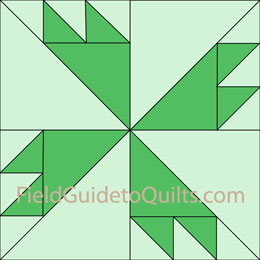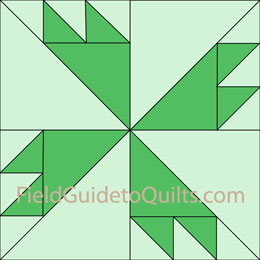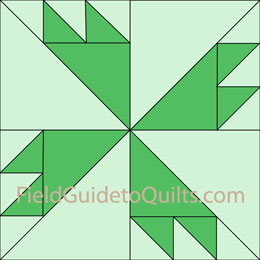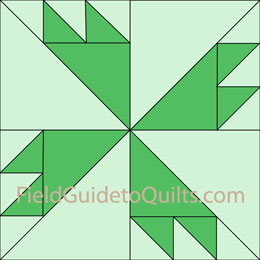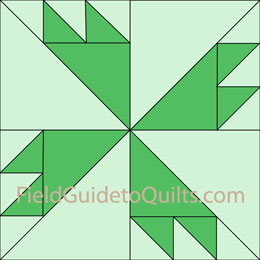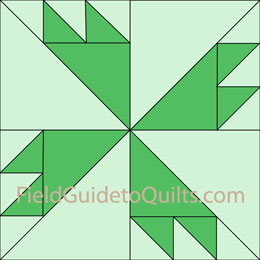 Rosebud/Humming Bird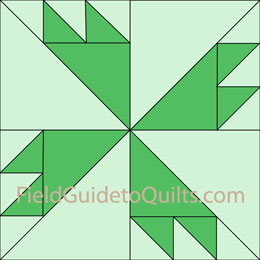 Rosebud/
Humming Bird
Stone, 1906

Rosebud/Crow's Foot/Bright Star/Budding Roses/Rose Bud/Maple Leaf

Although it often goes by Rosebud, Clara Stone's Practical Needlework introduced this block as Humming Bird(#74) in 1906.

The other names followed: Rosebud (LAC #517, 1928); Crow's Foot (Old Fashioned Quilts, ca. 1931), Bright Star (Nancy Cabot, 1934), Budding Roses (Nancy Page, 1939), Rose Bud (Hall, 1935), and Maple Leaf (Nancy Cabot, 1936).

We like Stone's name best. We see no hint of a rosebud in this block — only thorns (eight of 'em!). But a flying hummingbird is so fast that for all we know, they have four wings that look just like this block's.
---



How the Bear Paw Got its Name


In Western Pennsylvania and Ohio, the bear paw metaphor goes back to about 1800, according to Ruth Finley (Old Patchwork Quilts, 1929).

She explains with a story from the diary of a young man who went to the woods south of Cleveland in 1836. He started clearing land for a farm, and he soon fell in love with a neighbor named Mary Ann.

Being the prettiest girl around, Mary Ann enjoyed flirting more than the idea of settling down. When he proposed, she put off giving him an answer. Finally he gave her a deadline: She had one week to decide whether to marry him.

On the way to her house seven days later, the young man was treed by a mother bear, who, fortunately for him and Mary Ann, was too heavy from nursing to climb after him.

The bear waited all night for her dinner to fall out of the tree and finally wandered away.

When the young man arrived at Mary Ann's, she was badly shaken. She thought she had lost him! She answered his proposal with an unequivocal Yes, and they lived happily ever after.




---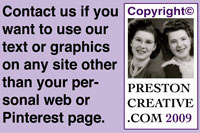 ---