FieldGuidetoQuilts.com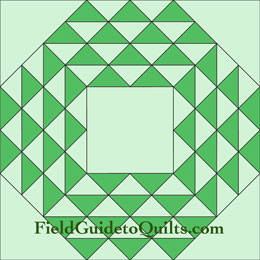 Ocean Wave

***
There are four variations of the beloved Ocean Wave block. Ocean Wave quilts were often made from fabric scraps, but one quilt from 1880 (pictured below), is a two-fabric masterpiece.

The Ladies Art Company's Ocean Waves was a border block. To see it, click here: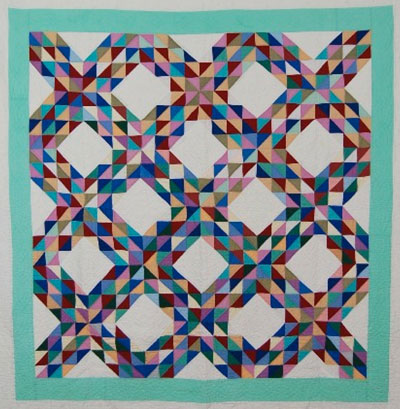 Antique Ocean Wave Quilts
---
Ocean Wave

Ocean Wave (McKim)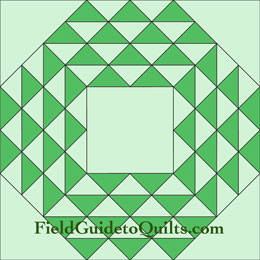 Ocean Wave McKim(KCS)
1928


The Ocean Wave/Sapphire Quilt Block



You've got to admire the Kansas City Star for its recycling spirit. Designer McKim's Ocean Wave was first published in the newspaper in 1928, then as The Ocean Wave and Sapphire Quilt Block in 1942 and 1953, respectively. It's laid out on a 12x12-square grid.






---
Ocean Waves
Ocean Waves (Cabot)

Ocean Waves Cabot
1937

Nancy Cabot's Ocean Waves was published in her Chicago Tribune column in 1937. It is far easier to make than McKim's. Cabot's block has two diagonal seams that spare the quilter from sewing awkward angles when s/he joins the sides together. Like McKim's version, it's laid out on a 12x12-square grid.


---
Ocean Wave
Ocean Wave (web)

Ocean Wave

Popular

In other Ocean Wave blocks, the center squares are off point — that is, the square's edges are parallel to the edges of the block. This version, which is all over the web, turns the entire block 45º, perhaps to make it more intuitive and thus simpler to make. Jubilee, below, also has on-point center squares.



---
Jubilee

Jubilee

Jubilee Page
1935

Jubilee is an ocean wave block from a 1935 Nancy Page column in the Birmingham News. Compared to the web version, it has single-triangle corners and a single-piece center. Both make Jubilee easier to piece than the web version. The layout is otherwise identical.


The photo at left is a detail
from the turkey-red
quilt shown below. The
points where blocks are
joined are marked off in
yellow.
---

Ocean Wave was often used for scrap quilts. This quilt top was probably made in Ohio
in the 1930s.


Photo courtesy of eBay seller French72.

This 1880 Turkey Red Ocean Wave has six triangles from one white patch to the next
and was pieced and quilted by hand.


Photos courtesy of eBay seller French72, 2016.



Victorian Dyes

The roots of rubia tinctorum, the madder plant, made orange to brown dyes.

Photo courtesy of "Carstor," Wikimedia Commons


Turkey Red was a dye, one of only two mid-19th-century dyes that reliably kept their color. (Turkey referred to the country, not the bird.) The other was Poison Green.

Turkey red and poison green might fade, but they didn't turn into blue or yellow, the way many greens did. However, poison green dye was made with arsenic, and it made the fabric disintegrate over time.

Fabrics dyed with madder root were popular, too. Madder dyes came in a range of orange to deep brown, but like poison green, the dyes used chemicals that made the fabric disintegrate over time.

Aniline (synthetic) dyes eventually solved the problem. They were produced commercially beginning in 1857 thanks to William Henry Perkin, an Englishman who synthesized the key chemical in 1856 — at the age of 18!

http://barbarabrackman.blogspot.com/2010/10/faded-greens.html and http://barbarabrackman.blogspot.com/2011/01/madder-style-prints.html
https://www.sciencehistory.org/historical-profile/william-henry-per