FieldGuidetoQuilts.com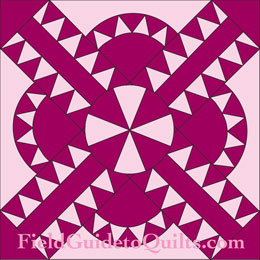 New York Beauty
***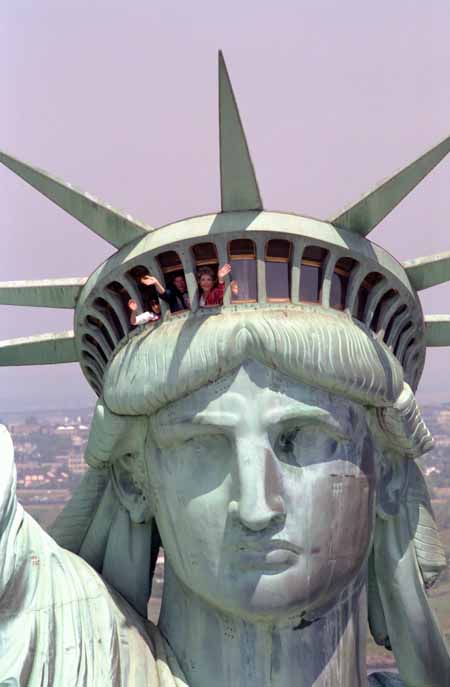 New York Beauty is a family of exacting, elaborate blocks that goes by a single name.

They were once called such names as Crown of Thorns, Rocky Mountain Road, and Saw, but since 1930, when the batting company Mountain Mist named a variation for the Statue of Liberty's spiny crown, New York Beauty is the only name anyone remembers. That's according to quilt expert Bill Volkening, who posted the information on a website for the documentary Why Quilts Matter.

A New York Beauty has triangles set on a curve — usually very narrow triangles. The triangles have at least two equal sides that create a point opposite the curve.

These elaborate blocks have come into their own recently thanks to a technique called paper piecing (or foundation piecing). It involves printing out paper patterns and sewing each seam with part of the actual pattern pinned to the fabric. Quilters design ever-more-spectacular New York Beauty blocks all the time.

For an example of paper piecing, click on the "Make it!" icon:


Each small block below links to its block description. You'll note that we've added pickle dish blocks, which are in the New Beauty family.


The real New York Beauty: The Statue of Liberty in 1986. Waving from the crown is First Lady Nancy Reagan, in red.



Wikipedia Commons



---
Broken Circle
Broken Circle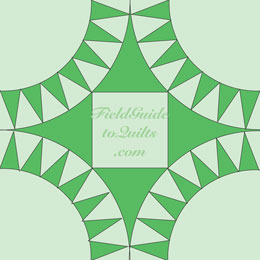 Broken CircleBroken Circle was Block #16 in Clara Stone's 1906 Practical Needlework—the design's first publication, a half-century or so after it was first devised in the Kentucky and Tennessee region. So we understand from collector Bill Volkening, who wrote, on the web site for Why Quilts Matter, that some of the oldest New York Beauty blocks had squares in the center of four quarter-circles. Here's a link to the article:

A few near-identical blocks came along later—the Ladies Art Company's Suspension Bridge in 1922 (#488), the Kansas City Star's Sunflower in 1929, and Aunt Martha's Suspension Bridge from 1933.

Besides having a square in the center, Broken Circle has seven points in each quarter circle rather than Indian Summer's five and two halves.


Broken Circle
---
Indian Summer
Indian Summer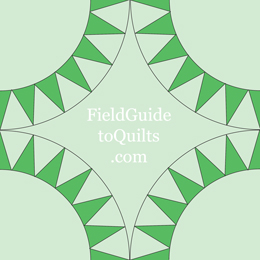 Indian Summer Ruth Finley, whose Old Patchwork Quilts included this block in 1929, calls this block "simple but effective." Effective, sure. But it's only simple compared to the point-a-palooza called Rising Sun that Finley mentions in the same line. Click here to see it:

An Indian summer, by the way, is an unexpected spell of warm weather that sometimes takes place in the fall.

Many instructions for paper-pieced blocks are posted on the web, but we have seen none quite like Indian Summer. To try it, you can click the "Make It!" icon (above right) and use our diagram.

Finley noted that Indian Summer is always placed so that the rows are offset by one half block.

---
Wagon Wheels
















Wagon Wheels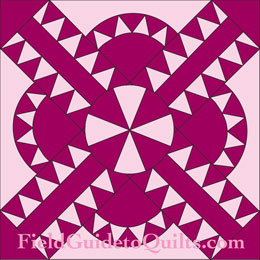 Wagon Wheels

The true challenge of this block is to make the triangles fit the spaces set aside for them in the curved and straight edges.

While the Kansas City Star, which published this block in 1947, gave a single pattern piece for all the small triangles, we found in drawing up the graphic that the triangles on the curves had to be smaller than those on the straight edges.

The Star has redrawn many of its patterns and included them in books. Apparently this one is in My Stars III: Patterns from The Kansas City Star, Volume III. However, if you use the diagram we've posted, you'll be all right. Click on the "Make It!" icon to see it.

Wagon Wheels
---
Pickle Dish
Pickle Dish
Ladies Art Co., #81
1897
Pickle Dish (LAC)
Pickle Dish
Cabot
1934



















Pickle Dish (Cabot)

The Ladies Art Company's Pickle Dish (#81, 1897) creates several patterns at once as a whole quilt.



Cabot's Chicago Tribune column included a similar block in 1934. Hers had quarter seams so that it was easier to put together. Why she cut the central oval in four, however, is a mystery.

We traced both blocks from their illustrations, but we had to do some tweaking, and they're still a tad irregular.

Take a look at Cabot's block in our graphic. At each end of the pointed oval is a pair of triangles that share seams with the oval. The two pairs of triangles are different shapes. That's how the original looks. Honest!

Even so, if you use our diagram to make this block, you'll come out all right. The purple MakeIt! icon, above right, links to that page.


---
The Pickle Dish
For our money — not that anyone's paying us — this Double Wedding Ring variation of the Pickle Dish is the most spectacular of the three Pickle Dish blocks on this page. The KCS published The Pickle Dish twice, once in 1931, which is the variation we've included here, and once more in the 1950s.

"Even the most experienced quilter must bewqre," Foland added above the block title, so no one would miss it. We say: Nonsense! Today's quilters make such spectacular spiky quilts that in comparison, this one's a cinch!
---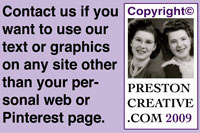 ---