FieldGuidetoQuilts.com

Triangle
***

one of four ways — as quarter squares, flying geese, half squares, or sawtooths.




Quarter square triangle — four pieces joined at the short sides. Cut in half and lined up, they're called flying geese

.


Half square triangle — two triangles joined at the hypotenuse. In a line, they make a sawtooth row

.



Let's start with quarter squares.

---
Quarter-square Triangles
We've divided these into quarter-squares that all four triangles and flying geese, which are like a quarter-square split down the middle.


Four-triangle Quarter-square blocks
Flying Geese
Flying geese are like half of the square created by four-piece quarter-square triangles. They make terrific borders. Traditional flying geese are twice as tall as they are wide.

Some quilters call the design flying geese even if there's only one of them, as in "It's a flying geese." Now, when you hear it, you won't be surprised.


---
Half-square Triangles


These blocks have half square pieces in the corners or are closely related to other blocks that do. Click on a block for more information.


Shoofly
Jack-in-the-Pulpit
Five-patch Churn Dash
---
In Sawtooth Rows
Bear Paw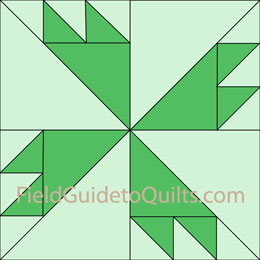 Rosebud/
Humming Bird

Coming soon:
Sunshine
Delectable Mountains
Hall

Delectable Mountains
Cabot

King Solomon's
Temple
Irish Puzzle

Kansas Troubles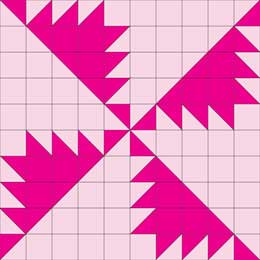 Kansas Troubles
Q Book
Irish Puzzle

Barrister's Block

Bear's Paw
LAC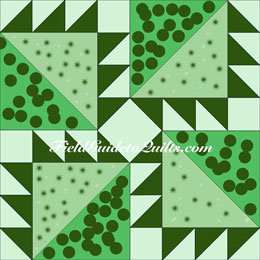 Bear's Paw
KCS
Star of Hope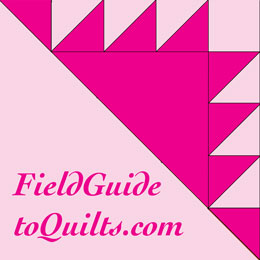 The
Delectable Mountains

Coming soon: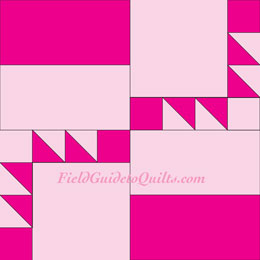 World's Fair Puzzle


Lady of the Lake & More
---
In Sawtooth Groups
Corn & Beans
Wedding Ring
Odd Scraps Patchwork

Handy Andy

Corn & Beans
Hovering Hawks
Wandering Lover
Birds in the Air
Little Cedar Tree
Cut Glass Dish
Broken Window
Primrose Path

Coming soon:
Flying
Geese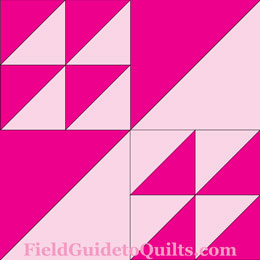 Flock of Geese

See also:

Pine Tree Design
Ocean Wave
Jubilee
Antique Ocean Wave Quilts
---
Spider Web
---
Crazy Ann
Dove in the Window

Flamingos in flight

Flamingos in Flight

Victory
Birds in the Air
Pinwheel Square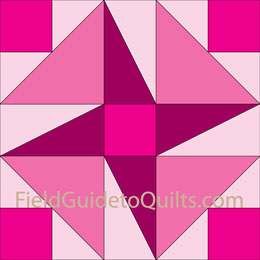 Crazy Ann
Perpetual Motion
---
Three Shapes
Turnstile, Windmill, Whirlwind

Windmill
Mosaic No. 9
Electric Fan No. 1
Old Windmill
Windmill
LAC #127
Dutch Windmill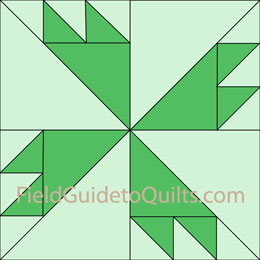 Humming Bird/
Rosebud
Double Quartet

Coming soon:
Rhubarb Twist
Blocks & Pinwheels
Shooting Star
Clay's Choice
---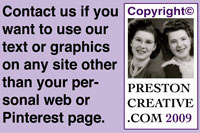 ---