FieldGuidetoQuilts.com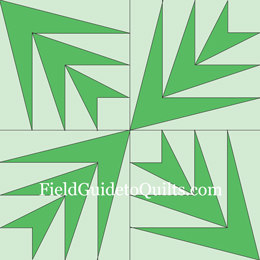 Foliage & Trees
***

Not all plant blocks are flowers. Here are some that aren't.


---
Hosanna
Hosanna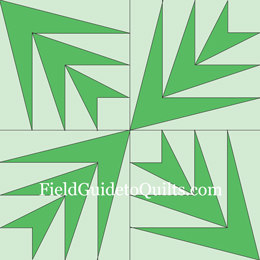 Hosanna


LAC, 1922

Palm Leaf/ Hosanna/ Palm/Hozanna/ The Palm/The Palms



While this block was first published in the Ladies Art Company catalog as its #461 (1922), Ruth Finley found it independently and concluded that it was a pre-Revolutionary design.

"One cleverly distinctive thing about the pattern is the inversion of one pair of the leaves," she wrote. "A real artist did that. Anyone else would have set the four stem ends together in the center."

Hall called it Hosanna (1929). Palm and Hozanna came from Carrie Hall (1935), and for the The Palm and The Palms, respectively, Beyer cites Laura Wheeler (1933) and a Mountain Mist Blue Book (1935).

The Bible story behind the names is that when Jesus went to Jerusalem, where he was convicted and crucified, people waved palm leaves as if Jesus was in a grand procession. The scripture is as follows:

---
Tree of Paradise
Pine Tree Design
Tree of Paradise
KCS, 1928
This design's earliest publisher was the Kansas City Star (1928). Their version was in two colors.

Researcher Carrie Hall found a near-identical block named Tree of Paradise and published it in her 1935 book. Hall's had three shades of green.


---
Pine Tree Design
















Pine Tree Design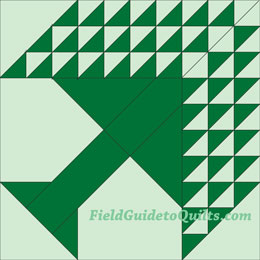 Pine Tree Design
Farmer's Wife Book of Quilts, 1931
If you look closely at Pine Tree Design, you'll notice that the squares in the upper right corner have a seam through their centers. Each corner is a pair of half-square triangles.

The Star's Tree of Paradise has the seam with half-square triangles too.

The difference is in the size of the biggest triangle. You can see the effect in the lowest leaves of the tree canopy.

This variation of Pine Tree is from Farmer's Wife Book of Quilts (1931) according to Beyer's Quilter's Album of Patchwork Patterns.
---
The Apple Leaf

















The Apple Leaf

The Apple Leaf
KCS, 1935
This two-color block is from a 1935 edition of the Kansas City Star. The stem is appliquéd. The shape is essentially a two-claw bear paw block,
as are the Maple Leaf and Autumn Leaf blocks below.
---
Maple Leaf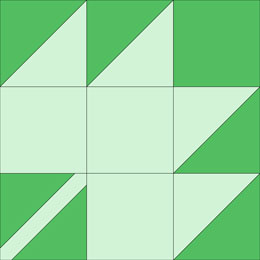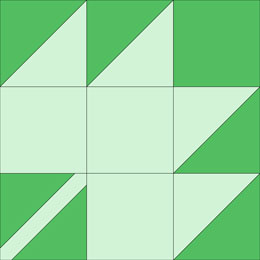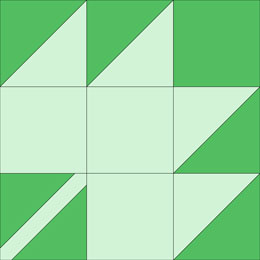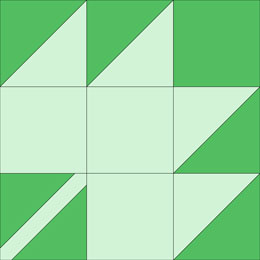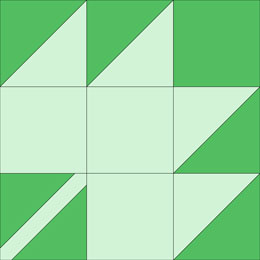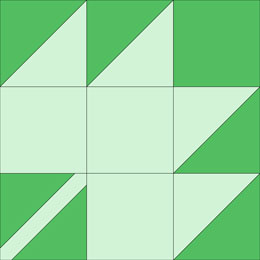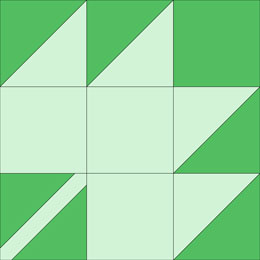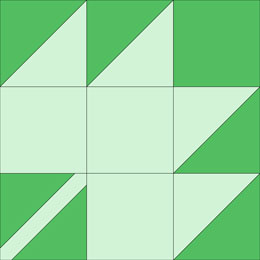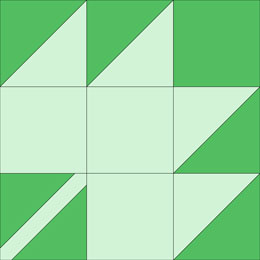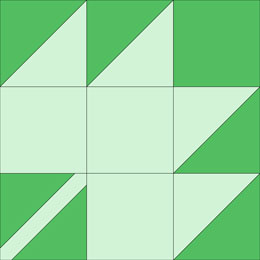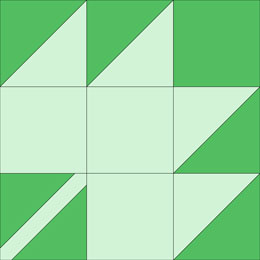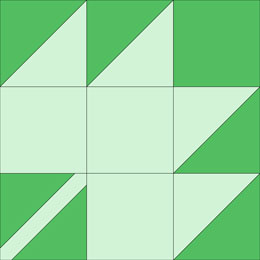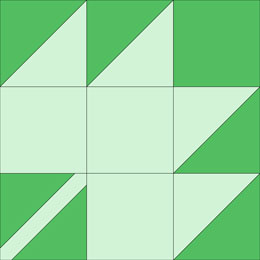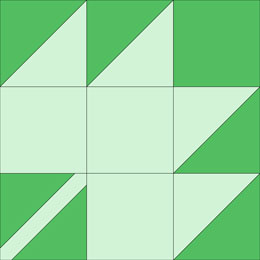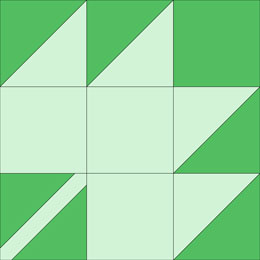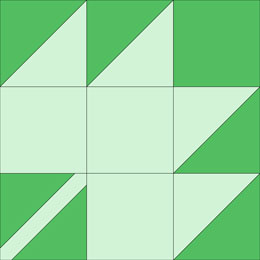 Maple Leaf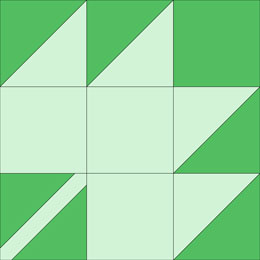 Maple Leaf
KCS, 1935

Magnolia Leaf/Tea Leaves


While the outlines of this block look exactly like Apple Leaf, the way it's put together is not. Apple Leaf is based on a central triangle, but Maple Leaf is basedon three squares. We've chosen the colors for this block to show the seams.

Clara Stone's 1906 Practical Needlework called this block both Maple Leaf and Magnolia Leaf, and Marie Webster included it as Tea Leaves in her 1915 book Quilts: Their Story and How to Make Them. The name Palm Leaf was a latecomer in 1973, in Gutcheon's The Perfect Patchwork Primer.
---
Autumn Leaf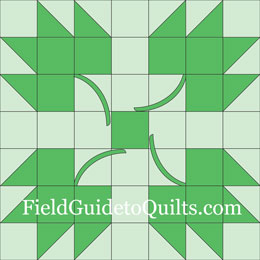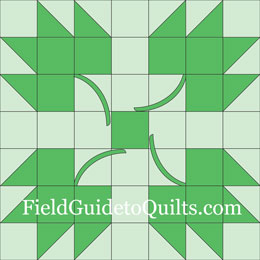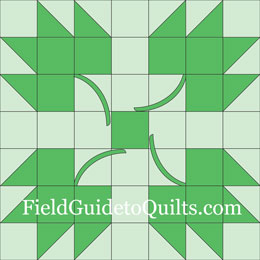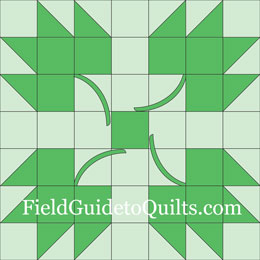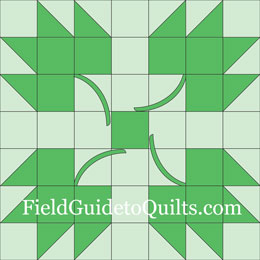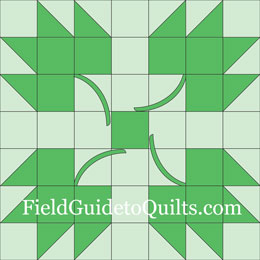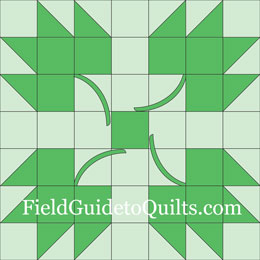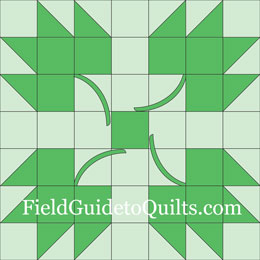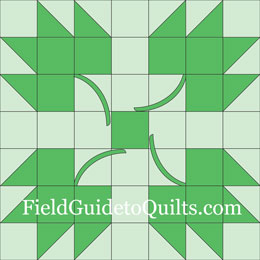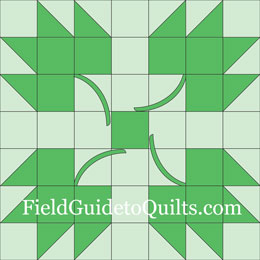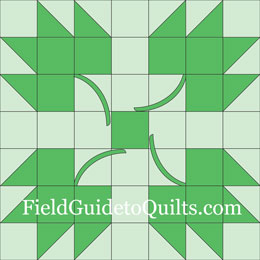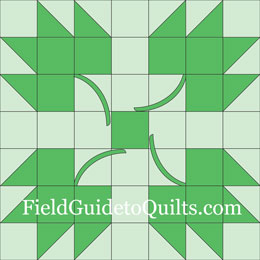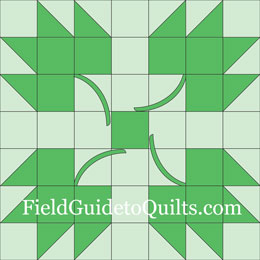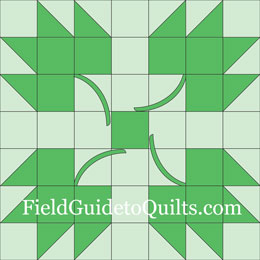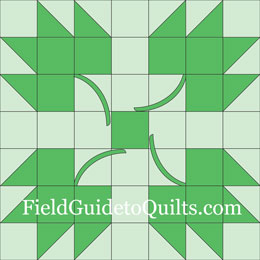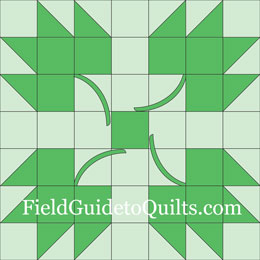 Autumn Leaf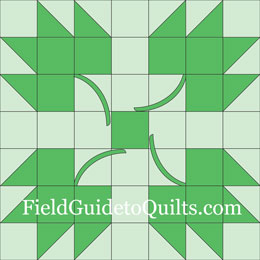 Autumn Leaf
LAC, 1928
These blocks are really bear paws blocks with a different theme.
The Ladies Art Company's Autumn Leaf, published in 1928, is different from the 1929 Finley variation in only the smallest ways.
In both blocks, the stems are appliquéd. However, in the LAC block, 1) Every patch is a small square or half-square (two triangles); 2) the center square is in the darker of two colors; and 3) the stems are shorter than in Finley's.
---
Autumn Leaf
















Autumn Leaf
Autumn Leaf
Finley, 1929
Poplar Leaf
Comfort
magazine called this block Poplar Leaf, according to Barbara Brackman
(Encyclopedia of Pieced Quilt Patterns).
Beyer tells us that
Comfort
was published in the 1930s. Presumably, then, Finley's was first, and our graphic at left is from her
Old Patchwork Quilts
(1929).
---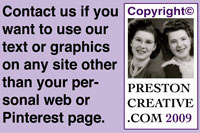 ---