FieldGuidetoQuilts.com
About our sources

***
Acknowledgements



As quilters, we walk in the footsteps of our elder sisters:

• Those unknown women who developed early patchwork designs
• Those who, like Ruth Finley and Carrie Hall, collected those designs
• Those who created blocks for newspapers and magazines, such as Florence La Ganke and "Laura Wheeler"
• The host of people and companies who published the blocks, beginning in 1835 with Godey's Ladies Book

Our sources include the Ladies Art Company catalog of 1928; Finley's Old Patchwork Quilts: And the Women Who Made Them (1929); Carrie Hall and Rose Kretsinger's The Romance of the Patchwork Quilt in America, Bettina Havig's Carrie Hall Blocks, published by the American Quilter's Society (AQS) in 1999; the Kansas City Star, Yvonne Khin's The Quilter's Dictionary of Quilt Names and Patterns (1988) and many others.

We've also used authoritative secondary sources. Chief among them are Jinny Beyer's gorgeous, carefully researched Quilter's Album of Patchwork Patterns (Breckling Press, 2009) and Barbara Brackman's groundbreaking Encyclopedia of Pieced Quilt Patterns (AQS, 1993), which illustrates, categorizes, and numbers thousands of traditional blocks. Whenever we didn't know the color values or where the solids and prints went, we went to Barbara Brackman's book. Whenever we couldn't figure out a block's structure, we consulted Jinny Beyer's.

A special note about Beyer's book: When we started this site, we lived in New York City, and planned to research it at the Museum of American Folk Art. That was just at the moment that the Museum deaccessioned its quilting files to the American Quilt Study Group of Lincoln, Nebraska. Ms. Beyer's book made it possible to access those files, albeit only second hand. Having worked in book production, we know the spectacular effort it takes to produce a work like Quilter's Album. We do have one humblebrag, though: We came up with the idea of using grids instead of "patches" independently, and we were bemused when we saw the same idea in Ms. Beyer's book.

Many thanks to Barbara Brackman, Bettina Havig, and Jinny Beyer, who graciously gave us permission to cite their works.
Here's more about some of our favorite designers.


Ruth E. Finley's 1929 book Old Patchwork Quilts: And the women who made them was the first comprehensive book on quilt design in America, and she traces most of her blocks to the 1850s and earlier. The book is wonderfully readable even today, with anecdotes, asides, and topics with backbone. In one section she calculates the value of women's time in dollars, using their pay for quilt stitching per foot, and the book is shot through with sharp remarks on women's undervalued economic worth. She ends with a screed on how technology and bad taste murdered "quiltmaking as a true art" in the 1870s. That was sixty years before quilting's rotary-cutter revival.

Quilts: Their Story and How to Make Them by Marie Webster preceded Ruth Finley's book by 14 years. She is credited with bringing quilting back to life in the 20th century. Sometimes she is also credited with writing the first book on quilting. We aren't sure: There was The Dictionary of Needlework in 1882, which provided one block at least (look for "continuous" blocks in our Anygon chapter). That book was the work of Sophia Frances Anne Caulfield and Blanche C. Saward.

In any case, Marie Webster's aim was apparently to legitimize quilts as an art form, and the book is exactly as boring as that sounds. Her designs were another story. After some of her exquisite appliqué quilts were published in the Ladies Home Journal in 1911 and 1912, she started selling patterns and kits. Webster's granddaughter Rosalind Perry republished 14 of Webster's designs in Marie Webster's Garden of Quilts and 12 more in A Joy Forever: Marie Webster's Quilt Patterns. Today, even used copies cost a zillion dollars.

Nancy Cabot, a.k.a. Elizabeth Leitner Reising, was a columnist for the Chicago Tribune from 1933 to 1945. Cabot designed some 2,000 piecework or appliqué designs in all. Often, she adapted old blocks from the Ladies Art Company, Clara Stone (Practical Needlework, 1906), and others. Adaptation is quilting tradition. Then, too, Cabot's column appeared in the newspaper every day, or nearly, for the column's first five years. Picture that job interview:



Editor: "This will be a daily column. Can you handle that?"

Reising: "A new block design and pattern every day of the week? Sure!"


Reising was an ace. Her blocks—even adapted from others' designs—are often distinctive enough to recognize among random blocks. She is still a favorite designer for many quilters.

No one knows who designed the blocks with the pseudonyms Laura Wheeler and Alice Brooks. The publisher, remembered as Old Chelsea Station Needlecraft Services (and named for the post office near its New York office), sold patterns to various publications. The blocks are even more recognizable than Nancy Cabot's blocks. The anonymous designer seems to have absorbed the Art Deco style that was all the rage in late-1920s New York, and the blocks reflect its clean curves and natural motifs in a wealth of flower blocks. Why have two pseudonyms with — probably — only one designer? Maybe so that competing newspapers could claim to have different columnists.

The Kansas City Star was the most prolific of the newspapers that published quilt blocks, starting in 1928 and continuing till the early 1960s. Ruby Short McKim, Eveline Foland, and Edna Marie Dunn were responsible for most of the patterns. Many of the Star's blocks were either updated Ladies Art Company blocks or renamed blocks published by the Star years before. Edna Marie Dunn, who was a fashion illustrator by training and inclination, used many blocks sent in by readers. The Star published more than 1,000 block designs.



---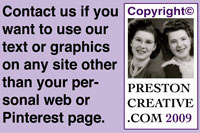 ---