FieldGuidetoQuilts.com
Carpenter's Star & Others

***
These stars have a spiny frame surrounding a center star, design, or plain square.
---
Our first three blocks below are made from the same pattern.


Carpenter's Star
Carpenter's Star
Carpenter's Star

Hearth and Home, 1880


Square A/Star Quilt Block/Black Diamond/Diadem Star/Double Star/Star of Bethlehem/Lone Star of Paradise/Twinkling Stars/Sunflower/The Knickerbocker Star/Star Within a Star/Carpenter's Wheel/Eccentric Star/Morning Star/Octagonal Star/Star & Diamond/Twin Star

This star goes by no fewer than 15 names — too many to list all their origins here. Carpenter's Star seems to be the most popular. As it happens, this variation looks very much like a Blackford's Beauty.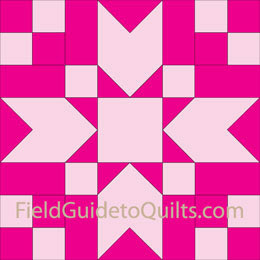 We haven't seen the original Hearth and Home in which Carpenter's Star was first published, as Square A, in 1880 (according to Jinny Beyer's Quilter's Album of Patchwork Patterns), but the block would probably have been in two colors, and that's how we've shown it here.

That doesn't mean that the block was supposed to be made with just two fabrics. The colors also stood for dark and light fabric scraps.


Paradise
Paradise
Paradise

The Kansas City Star, 1933

The Lone Star of Paradise



Paradise, or The Lone Star of Paradise, uses the Carpenter's Star design; only the colors are different. The graphic shows what the Kansas City Star recommended in 1933. The center background, here in medium pink, was supposed to be a print.


Circle Saw
Circle Saw
Circle Saw
The Kansas City Star, 1936


Star of the East



The Kansas City Star added a curious fillip in 1936 by combining the corner square with the square clockwise to it and calling the block Circle Saw. The block was in two colors, with the corner rectangles in the background (light) color and the rest dark. Here, we've added a third color to emphasize how it differs from the Carpenter's Star.


---
Dutch Rose
















Dutch Rose
Dutch Rose

Ladies Art Company, 1897

Unknown Star/Star of the East/Star with Diamonds/Triple Star/Orphan Star/Eccentric Star/Star & Diamond/Morning Star



The difference between Dutch Rose and a Carpenter's Star is that the corners are triangles instead of squares.

When Dutch Rose was first published as #185 in the Ladies Art Company's 1897 catalog, it was in two colors, with the corner triangles in the background color. We've branched out here to show them, and also to show how a 3rd color adds a hint of a 3rd dimension to the block.

Unknown Star was Marie Webster's name for it in her 1916 book Quilts.

In an octagonal block (with the corner squares removed), this star is called...wait for it...Octagonal Star! Click here to see it:
---
Jewels in a Frame
Jewels in a Frame

Star of Bethlehem/Bethlehem Star/Star of the Magi/Winged Star/Christmas Memory Quilt

We've called this block by its oldest unique name, which happens to be one of the newest.

The Kansas City Star published this block as Jewels in a Frame just three days before designer Nancy Cabot presented it as Star of the Magi. That was in 1937.



---
---
Georgetown Circle
















Georgetown Circle
Georgetown Circle Finley
1929

Crown of Thorns/Memory Wreath



This three-color, 12-pointed block is from Finley's 1929 Old Patchwork Quilts. Georgetown is, of course, a neighborhood within Washington, DC, but that's not necessarily the "Georgetown Circle" that inspired the block.

The block combines both wreath and star patterns, Finley notes, and has also been called "The Crown of Thorns" and "Memory Wreath." Because Georgetown Circle is the most distinctive of the names, that's what we've called it here.

Besides, memory wreathes transcend a single block. Finley wrote, "The blocks of the Memory Wreath were pieced from the dresses of one's dear departed, the white center of the block in the exact middle of the quilt usually bearing a fitting inscription in cross-stitch."


---
King David's Crown

King David's Crown
King David's Crown Finley
1929

Finley cited this block as one of the most often used for "every-day" quilts 'way back when, meaning the block was probably made from scraps. It's laid out on a 10x10 grid.


---
Rising Sun
Rising Sun
Page, 1941
Rising Sun

The designer Nancy Page presented this multi-pointed star block in May 1941 in the Birmingham News.

It would be a good while before another Rising Sun block was published in an American newspaper. Pearl Harbor was bombed by the Japanese that December.
---
Stars & Cubes



Stars & Cubes





Star/Yankee Pride/Heavenly Stars/Captive Beauty/Double Star/Cubes & Tiles/Maple Leaf



The star-in-star block was first published under the lackluster name Star in Ohio Farmer (1896), according to Barbara Brackman's Encyclopedia of Pieced Quilt Patterns, and in the following year as Stars & Cubes in the Ladies Art Company catalog (#15). The other names came from — well, we don't want to bore you.

The block is sometimes mistaken for a Carpenter's Star, but it's not quite the same — besides being on an 8x8 grid, it looks as if it's on point. Arguably, the design is even prettier when the blocks are in a group.
---
Modern Carpenter's Star
Modern Carpenter's Star
Modern Carpenter's Star

Carpenter's Wheel/Carpenter Star

This simplified Carpenter's Star is drawn up on an 8 x 8 grid instead of the traditional grid of multiple circles. It's so popular that nobody seems to notice the difference. But in this version, the square pieces around the center star are in two different sizes, and the diamond pieces are parallelograms.

We don't know where the design came from, unless it was Debbie Maddy of Calico Carriage Quilt Designs, who publishes the pattern as a whole quilt:


Lots of tutorials exist on the web for this star. We've included a link to one of them.

The only difficulty for a newbie is sewing the half-squares together. It's easy to stretch diagonal edges as you sew. One way to avoid that is to starch (as in "with an iron") the half-square pieces before you sew them together.



---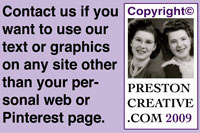 ---