FieldGuidetoQuilts.com
Center-curve blocks
***

These blocks are among the most appealing, in our eyes, and many would look terrific in a windowpane setting.


---
---
Petal Circle in a Square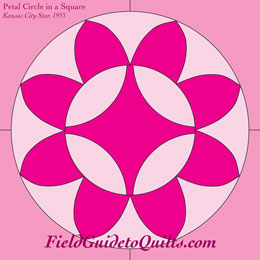 Petal Circle in a Square
KCS, 1955
Petal Circle in a Square

In 1955, late in the era of newspaper quilt columns, this block appeared in the Kansas City Star's quilting corner. There was one remarkable feature: It was credited to Edna Marie Dunn of Kansas City.

Ms. Dunn had been the quilt-column editor at the Star for more than two decades, taking over from Eveline Foland in 1932. During those 22 years, she was anonymous. Why? Possibly because her "real" job was as the Star's fashion illustrator. So Barbara Brackman tells us in her book Women of Design: Quilts in the Newspaper 1928-1961 (2004).

Apparently, Dunn didn't want to be known as a quilt-block designer. Even when she used her name, Ms. Dunn referred to herself in third person, as if the designer was an entirely different person she'd never met.


---
Caesar's Crown
















Caesar's Crown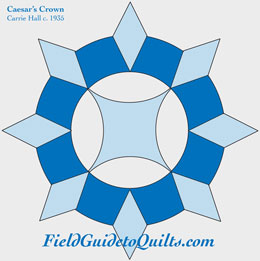 Caesar's Crown
Hall
1935

Our source for this block is Carrie Hall's The Romance of the Patchwork Quilt in America (1935). She stitched up a block for her collection, which is now in the Spencer Museum at the University of Kansas, Lawrenceville. We posted a diagram that you'll see when you click the "Make It!" block at upper right.

To see the only other block we know called Caesar's Crown, click here:
---
Queen o' the May
Queen o' the May
Stone
1906
Queen o' the May
This block was #133 in Clara Stone's Practical Needlework (1906).

The curious name refers to the honorary Queen of the May Day festivities. The first day of May was at one time was a widely celebrated festival, with the young people dancing the Maypole, as well as games and so forth. The tradition lives on in elementary schools nationwide.
In the booklet, the block is on a white background. The fabric shown in light pink was a print in Stone's original. We traced the block from Stone's drawing.
---
Orange Peel
Orange Peel
Snow
ca. 1932
Orange Peel (Snow)
This pretty block came from a Grandma Dexter booklet (#36a) from about 1932, and is credited to designer Virginia Snow. The original illustration uses scraps on a white background, as do virtually all the blocks in this Depression-era publication. Beyer's Quilter's Album says it's drawn on a 10 square by 10 square grid.

Orange Peel makes a beautiful whole quilt. Doubtless you'll agree.
---
Mississippi Oak Leaf
Mississippi Oak Leaf
Stone, 1906
Mississippi Oak Leaf

Clara Stone's 1906 Practical Needlework included this block as its #102.

Brackman's Encyclopedia of Pieced Quilt Patterns also cites it as the Ladies Art Company's Block No. 300, as Cactus Blossom Patch (it doesn't appear in our 1928 LAC catalog).

We traced this block directly from a copy of Clara Stone's version. It is irregular because of a gap between the curved leaves in the center (dark pink at left). To replicate it precisely would require a grid of at least 60 squares by 60!


Note: Mississippi Oak Leaf makes an interesting contrast with the block Tea Leaf. Click here to see:
---
Rose Album
Rose Album
LAC
1928

















Rose Album California Rose/Strawberry

Rose Album is not unique to the Ladies Art Company. It should be, because it's a pain to draft. Still, the fearless Nancy Cabot presented it in her Chicago Tribunecolumn in 1933 as California Rose, and it appeared as Strawberry in an Aunt Martha catalog the same year.

Jinny Beyer says that Rose Album is drafted on a star grid, and we say more power to her. For the graphic at left and for our block diagram, we traced the image in the LAC's 1928 catalog.
---
Cog Wheels
Cog Wheels
LAC #41
1897
Cog Wheels

Cog Wheels, which was #41 in the Ladies Art Company catalog of 1897, can be drafted with only three circles.

For those who love geometry, we say this: The longest sides of each point are segments of the largest circle. Each end-to-end petal in the center is a segment of the smallest circle. The bottom of each short point is 1/12 of the circumference of the middle circle. The bottom of each long point is 1/6 of the edge of the smallest circle.

For the rest of us, we've posted a diagram. Click on the "Make It!" icon to see it.
---
The Jinx Star
The Jinx Star
KCS, 1934
The Jinx Star
The Jinx Star is from the Kansas City Star, like so many other wonderful blocks (1934). The headline says, "This quilt design will not prove a jinx—try it." The contributor put her block together with white and orange, with a black and white print where we've used a very dark gray.

The quilter was ahead of her time. This quilt's pattern would have been right at home in the 1970s and beyond.
---
Lost Paradise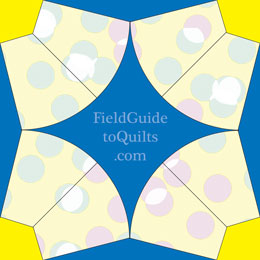 Lost Paradise
KCS, 1939
















Lost Paradise
In publishing this block in 1939, the Kansas City Star recommended that half of the eight fan shapes be in a yellow print and half in a blue print. We're not sure how those colors would be placed, but the accompanying illustration had a single print fabric, and we followed suit.
---
Turkey Tracks
Turkey Tracks
KCS, 1929
















Turkey Tracks (1929)

The Kansas City Star published this block in 1929, noting that it was from a Star"exhibition home." Presumably, that was the Star's equivalent of a Good Housekeeping seal of approval. The designer was Eveline Foland.

The block appeared in two colors, dark on a light background. We've reversed those colors to show the seamlines.
---
Turkey Tracks
Turkey Tracks
KCS
1936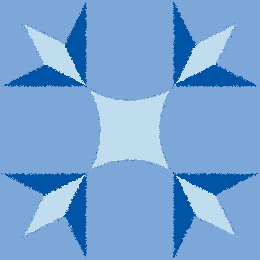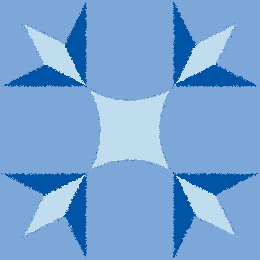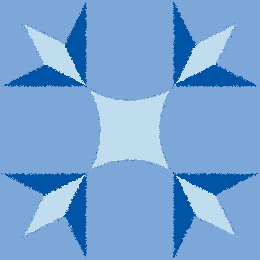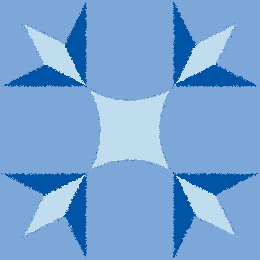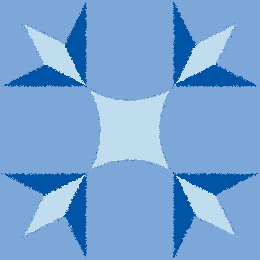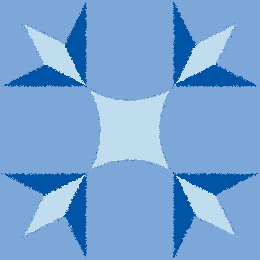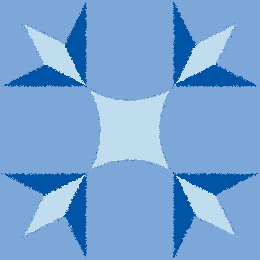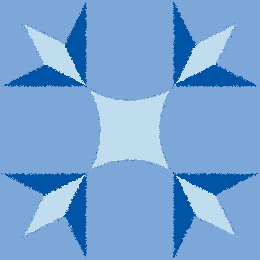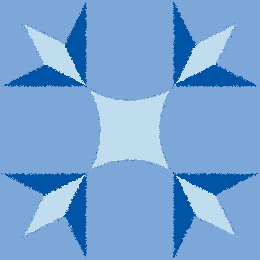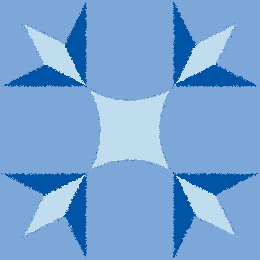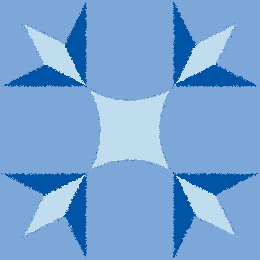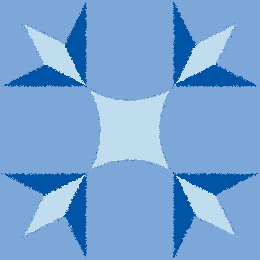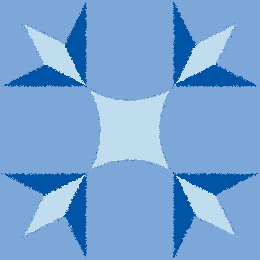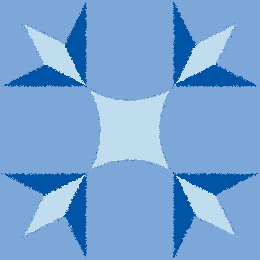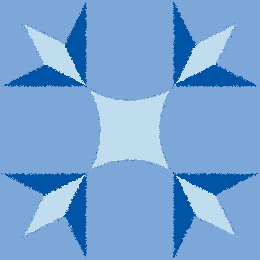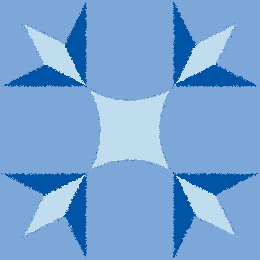 Turkey Tracks (1936)

The contributor of this block, which was published in the Kansas City Star in June 1936, said that she'd sketched it from a quilt displayed at the Star's own "Better Homes Show" in 1928.

That is, she sketched it from the block immediately above this one.

It's like a visual version of the children's game "telephone." The 1936 version looks completely different, but its attenuated proportions make it seem more delicate than the original. Meanwhile, the flower-like block motif disappears into the corners of squares.

The Star also said that Turkey Tracks inspired the "Star Quilt Series." Unfortunately, that's all we know about it.
---
Bleeding Heart
Bleeding Heart
Ladies Art Co., #501
1928
Bleeding Heart
Bleeding Heart came into print as #501 in the 1928 Ladies Art Company catalog. Remember, that was the jazz age, and the Art Deco movement was in full swing. Doubtless, quilters were hungry for curves and challenges.

This isn't the only Bleeding Heart block. Click here to see the other:


The block is pretty by itself. The whole quilt is lovely too, but it looks completely different from a single block — more like a series of four-petaled flowers inside medallions.
---
Dutch Tulip
Dutch Tulip
Dutch Tulip


KCS, 1955

We have yet to finish researching this block.
---
Milwaukee's Own
Milwaukee's Own
KCS, 19
Milwaukee's Own

We've yet to finish researching this block.




---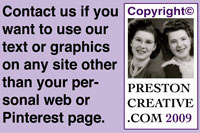 ---